2015 PATCO Membership

Stay Connected!!


Visit the PATCO YahooGroups website.
Click here to read the goals for PATCO.
PATCO meets every 2nd Monday of the month

Click here to join other parents on: patcopresident@yahoo.com
Receive calender alerts and communicate easily with other parents

Additional Links


We have a HS and K-8 PATCO!
Attend A PATCO Meeting & We Will Give Your Child A Dress Down Day Pass!!
Dear UC TEAMS Charter School Parents,
Welcome back to school. As parents, we are all looking forward to our precious treasurers acquiring and mastering all the new skills their teachers will be passing on to them. For many of us, we know what we can expect from the teachers and staff at UC TEAMS Charter School while new parents are just as excited about beginning this new experience.
Parent teacher organizations throughout the United States are wonderful support systems in a variety of ways for schools. These groups organize fundraisers, provide money for different activities and events, and hold fun family activities. It is a service for and to our children, to enhance their school experience and environment.
PATCO is the parent and teacher community organization of UC TEAMS Charter School. We ask parents to donate $15 per family each year. This money gets the organization started for the year. Currently PATCO is in need of an executive board. All board members have served for two consecutive years in several positions within the executive board. Currently we need people with fresh ideas and visions.
Many times working parents are worried about the time commitment, but if everyone gave a little support and commitment to one aspect or one activity we could do marvelous things. The work-load and responsibility does seem huge when only a few people are involved, but the organization's goals and mission could be met so easily if more parents decided to "lift" just one thing.
Over the years we have been able to help UC TEAMS in several ventures for our children and the staff of the school. We would like to have your voice and your input to benefit the next generation of children that will go through these doors. In essence, we need you, parents, to bring your talents to the executive board. Positions of secretary and treasurer are open for all to participate.
Best wishes for a successful school year!
Meeting Dates


Promptly at 6:00pm. Ends promptly at 7:30pm.

November 9, 2015
December 14, 2015
January 18, 2016
February 8, 2016

March 14, 2016
April 11, 2016
May 16, 2016
June 13, 2016
---
High School PATCO MEETING DATES
All Meetings Held At SBC **Dates Subject to Change
Topics from Administration
6:30pm Meeting Time
September 24, 2015
Goals and Objective by Principal
State of the School Presentation by the Executive Director
October 22, 2015
PATCO Elections K-8 and Reorganization HS
Where do we go from here?
November 11, 2015
Financial Aid for High School Students and Families
December 16, 2015*
PARCC Data Review and Updates
+Online Resource- Khan Academy
January 27, 2016
Join us for a Hands on Activity - Acellus Online & Hour of Code, What's It ALL About?
February 24, 2016
New SAT, New ACT, New State Assessments, New Science Standards
News from Union County College
March 23, 2016
TechExplosion Student Created Website Showcase
Technology 101 A How to Parent Session
April 27, 2016
Family Fun Night (Old School verses New School)
Assessment Updates: PARCC, EOC Bio (9th)
May 18, 2016
Brief Meeting: A Year in Review – Built Environment Fair
Topics Subject to Change

Common Core State Standards For Parents
PATCO Newsletters


Missed some of our news?
Read our archived editions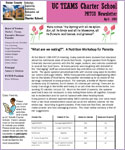 If you are interested in sharing your ideas for the school by becoming involved in PATCO, please let us know by introducing yourself or emailing patcopresident@yahoo.com.